Coffee Break: Custom Business Tote
|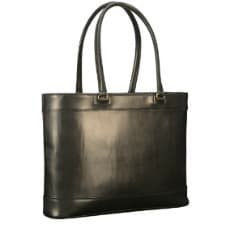 We recently heard from a reader who shared a recommendation for Glaser Designs, which is based in San Francisco and creates customized work and travel bags. She emailed to say, in part:
I was in desperate need for a great looking and great functioning briefcase for years. Finally I found the BEST company on the planet for this that first interviews you about how you use a briefcase — your needs — and then, with you on SKYPE designs one that fits for you.
We're picturing the Business Tote — the example on their website measures 17″ x 3″ x 4″ and seems like a nice choice for a basic, classic tote for work. It has a dark green grosgrain lining, which is a nice touch, as well as bottom metal studs, two zip pockets at the top, and a key ring inside. To customize a bag, you can talk to Glaser Designs via Skype, FaceTime, or Google Hangouts (or visit their San Francisco studio), and discuss your preferred size, color (for hand-coloring with water-based dyes), lining, top stitching, and strap length. (The company also offers other leather items, such as duffel bags, padfolios, and passport holders, to name a few.) Business Tote
The post Coffee Break: Custom Business Tote appeared first on Corporette.com.